How to align your sales and marketing efforts to the education buying cycle
Timing is everything, as the saying goes. That's just as true for selling to schools as it is for finding the perfect job, making a romantic connection, or landing an effective punchline.
In education, purchasing generally happens according to a rigid cycle. That's because education is a highly regulated industry, with the vast majority of its funding coming from federal, state and local tax dollars. This is especially true for public K-12 schools, which only receive 1% of their funding from other sources.
Most state and local governments operate on a fiscal year that begins July 1 and ends June 30. This means state and local officials are typically developing and finalizing their budgets for the next fiscal year in April through June.
In many states and municipalities, the budget-making process is collaborative, with state and local officials asking school administrators for their requests before determining their budgets. As a result, school leaders are identifying their needs and working on their own budgets for the following school year in late winter to early spring.
Once the new fiscal year begins in July, purchase orders can be released. Most new purchases are acquired and paid for during these summer months, with installations occurring before the start of the new school year.
If you understand this cycle, then you can time your sales and marketing efforts to align with it for maximum effectiveness. We've put together this illustration to show the school buying cycle in action: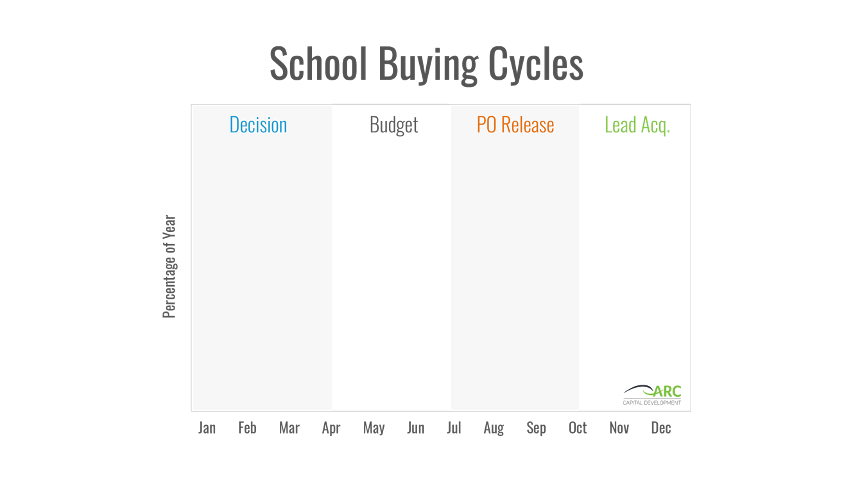 The key period you need to be aware of is when school leaders are assessing their needs and preparing their budgets for the next school year. This phase of the cycle generally begins in January and lasts through May, peaking around March. We call this the decision-making phase, because it's when school leaders are most apt to be making choices about the products they'll buy with their budgets for the following year.
That means it's also the prime selling season for education marketers. This is the most critical time for you to be in front of school decision makers, making them aware of your products and how these can help them solve their biggest challenges, meet the needs of students, or do their jobs more effectively.
To ensure that you're able to do this, it's important to go into the spring decision-making cycle with as many high-quality leads in the pipeline as possible. The most successful companies in this sector set up their sales and marketing processes to acquire as many leads as they can in the fall, nurturing those leads through the winter months so they've got a large pool of prospects with whom they've established a connection in time for closing sales in the spring.
While these cycles hold true year after year, that doesn't mean schools aren't making buying decisions at other times as well. There is also discretionary funding available in most school budgets, to be allocated as leaders see fit—and this money is used to make purchases as needs arise during the course of the year.
To take full advantage of these opportunities, sales and marketing teams should be working year round to gather and nurture leads and close sales. However, to amplify your success, you should scale up these activities to coincide with the corresponding peaks in the school buying cycle. In doing so, you're sure to reap the benefits.